Ely Professors
The Professorship was created in 1889 and funded by a canonry at Ely cathedral. It could therefore only be held by ordained Anglicans. It was suppressed on the retirement of Professor Stead in 1980.
Vincent Henry Stanton (1846-1924)
In post 1889-1916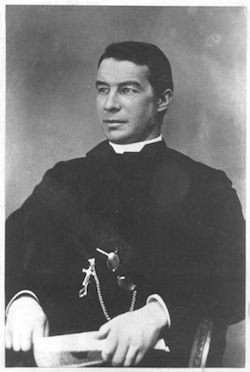 Vincent Stanton was born on 1 June 1846 in Hong-Kong, the son of a colonial chaplain, but he was sent to school in Britain. He read classics and mathematics at Trinity College, Cambridge. In 1872, he was elected a Fellow of his college, the same year he was made deacon. In 1889, he was appointed the first Ely Professor of Divinity, holding the post for 27 years, until in 1916 he was elected to the Regius chair.
His academic interests straddled New Testament studies and philosophy of religion. His obituary in The Times noted that he published little but what he did put in print was of high quality. His greatest contemporary acclaim came from a three-volume work: The Gospels as Historical Documents, published in 1903, 1909 and 1920 and considered at the time indispensable to any student of the New Testament. He was also keen to promote philosophy of religion and endowed a lectureship in the subject in 1904, the first holder being Vernon Storr.
Stanton was a shy man and was not a good public speaker, his lectures being rather detailed and unexciting. Yet he was much admired, not least because he was known as an unselfish man, who would ever promote and help others before putting himself forward. He was a keen supporter of overseas missions too, both in giving generously of his own money and also in giving wise advice.
He resigned his Regius chair in 1922, aged 76, and died on 8 June 1924 in Cambridge. His considerable estate was left mainly to charities, about half going to Westcott House to help complete the college buildings and to found bursaries for poorer students.
Alan England Brooke (1863-1939)
In post 1916-1926
The youngest of four sons of an Anglican priest, Brooke was born on 1 September 1863 in Middlesex. He was an undergraduate at King's College, Cambridge, graduating with a BA in theology, and in 1889 he became a Fellow there. Ordained in 1891, he became Dean of his College in 1894. For many years a lecturer in the Divinity Faculty, he was elected to the Ely professorship in 1916, resigning in 1926 when he was chosen to be head of his College. To him, this elevation to being Provost was an unexpected turn of events, but it showed the respect for his judgement and abilities amongst his colleagues.
His principal scholarly work was the editorship (with Norman Maclean) of the Cambridge edition of the Septuagint, which he worked on until his death. Although this enormous undertaking took up most of his academic energies, he also published editions of Origen's Commentary on St John's Gospel and a critical and exegetical commentary on the Johannine Epistles. He was highly regarded for the meticulous and detailed thoroughness of his scholarship. He was a good lecturer although it was said he was somewhat 'agitated' in his delivery, particularly of sermons.
He retired from being Provost in 1933 and his later years were spent conscientiously on the unfinished Septuagint project. His wife had sadly died in 1919 and so he was grateful for the company of colleagues, who enjoyed his gentle wit and generous counsel. He died in Cambridge on 29 October 1939.
John Martin Creed (1889-1940)
In post 1926-1940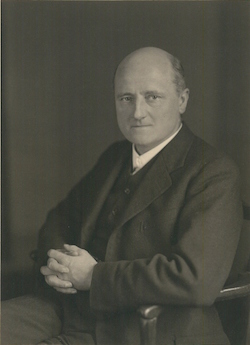 John Martin Creed was born on 14 October 1889 in Leicester, the son of a local Vicar. He was educated at Wyggeston Grammar School, Leicester, and went up to Gonville & Caius College, Cambridge, in 1908. He proved a brilliant student, taking a first in Classics in Part 1 and in a first in Theology in Part 2 of the Tripos. Ordained to a curacy in Bradford in 1913, the following year he returned to Cambridge as a Fellow of his college and chaplain from 1915. He spent two years as a chaplain to the Forces 1917-19 and on his return was elected to a Fellowship at St John's College, where he became Dean. In 1926, he was elected Ely Professor. This was on the basis of his scholarly endeavours, as he was not considered particularly effective with students or in teaching.
Creed's main interests were in New Testament studies and early Christian history. He published a critical commentary on the Greek text of St Luke's Gospel. However, he became increasingly interested in the development of Christian thought and doctrine, publishing a book of extracts on 18th century thought (co-edited with J. S. Boys Smith), and in his 1936 Hulsean lectures he analysed the development of the doctrine of the Divinity of Christ since the time of Kant. Some of the stimulus for these interests came from his membership of the Archbishops' Commission on Christian Doctrine, whose report was published in 1938 after fifteen years of deliberation. He co-edited the Journal of Theological Studies from late 1935.
He died in post at the young age of 50 on 17 February 1940.
John Sandwith Boys Smith (1901-1991)
In post 1940-1943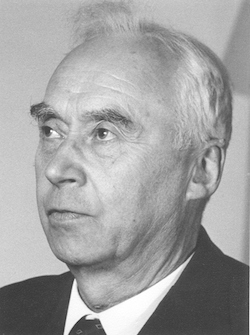 John Sandwith Boys Smith was born on 8 January 1901 at Hordle in Hampshire, where his father was the Vicar. He was educated at Sherborne School in Dorset and then St John's College, Cambridge, where he first read economics. He then transferred to theology where he achieved a first in 1924. After studying at Westcott House, he was made deacon in 1926 and ordained priest the following year, spending a year as a curate in Sutton Coldfield, before returning to St John's as chaplain.
He published comparatively little. His fellowship thesis was on the nature of faith, much influenced by his reading of the philosopher Immanuel Kant, and in which he sought to combine the insights of psychology, philosophy and theology to describe faith. He followed it in 1930 with a short piece on Christian doctrine and evolution, as he believed the latter had undermined traditional approaches to theology. However, there he seemed to stop and never fulfilled his intention to write a volume on belief. However, his willingness to explore new avenues of thought made him a stimulating teacher and in 1934 he began three years as the Stanton Lecturer in Philosophy of Religion. He co-edited the book on 18th century thought, mentioned in the previous entry, with J. M. Creed.
Two months after Creed's premature death, Boys Smith was elected to succeed him as Ely professor. However he held the position for only three years, resigning to devote himself to his college, where he became Senior Bursar in 1944 and then Master from 1959 to 1969. He also served as Vice-Chancellor of the University in 1963-65. This change of direction from an academic to an administrative career was interpreted by some as his moving too close to a 'modernist' position and consequently suffering a loss of faith. However, he continued to attend church and preached regularly, his sermons considered models of clarity and reason. Many who knew him therefore refuted the 'loss of faith' argument.
Retiring in 1969, he lived on for over thirty years, dying on 3 November 1991 aged 90.
William Telfer (1886-1968)
In post 1944-1947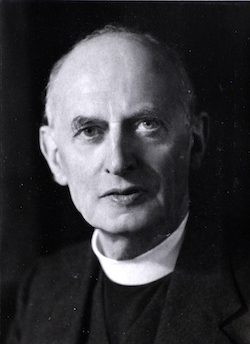 Son of the head of Henry Wreight's School in Faversham, William Telfer was born in Rochester on 16 January 1886. Educated in Canterbury, he graduated from Clare College, Cambridge, in 1908. He went on to ordination and a tough assignment as a missioner in his college's mission in Rotherhithe, a dockland area of considerable poverty. He paused that work to act as a chaplain to the forces during the First World War, but in 1919 returned to become Vicar of All Saints Church there. He was recalled to his old College to be a Fellow and Dean in 1921. He became a university lecturer in theology in 1926 and was elected to the Ely chair when his predecessor unexpectedly resigned.
Although he had rather a dry speaking voice, the theories and ideas he expounded were exciting and he was judged a good teacher. His field of expertise was early Christian studies and he was encyclopaedic in his knowledge, especially of the Greek Fathers. However, his obituary in The Times noted that his interest seemed to be mainly in detail than the whole and "that is why he left no work fully worthy of his range of knowledge." His main academic output was in a series of well-received articles in learned journals during the 1930s and these established a sufficient reputation for him to be elected to the Ely professorship in 1944.
His lack of publications may have been one of the reasons he felt comfortable resigning his professorship after only three years to become Master of Selwyn College, Cambridge, in 1947. There, he was a reserved but respected figure, impressing with his personal simplicity and lack of ostentation as well as his capacity for loyal and supportive friendship.
He retired to Kent in 1956 and in his new-found leisure wrote two books, one on the forgiveness of sins and the other on the office of a bishop, dying on 13 January 1968, three days before his 82nd birthday.
Edward Craddock Ratcliff (1896-1967)
In post 1947-1958
Edward C Ratcliff was born on 16 December 1896 in Streatham, south London, his father working as a clerk at the Stock Exchange. He won a scholarship to St John's College, Cambridge, but the First World War broke out. Unfit for military service due to frail health, he worked instead for the Army YMCA in India. He returned to Cambridge in 1918 and read for the Oriental Studies Tripos. He then transferred to theology for Part 2 of the Tripos and took a first. Ordained to a curacy at St Mary's, Ely, in 1922, two years later he was appointed Vice-Principal of Westcott House Theological College.
A Fellow of Queens' College, Oxford, from 1930, he was chaplain there until 1937. In the Divinity Faculty, he was a lecturer in liturgiology from 1933. He was a prolific and learned reviewer, careful and elegant in his prose, and he became known as an authority on liturgy. His major books were on the Coronation Service and the Book of Common Prayer. In 1939, his health, never strong, became troublesome and he resigned all his positions to go for a rest cure in Italy. Then Italy joined the Second World War and he returned to serve in pastoral positions in churches in London. In 1945, he was appointed Professor of Liturgical Theology at Kings College, London. A few years later, he was elected to the Ely professorship, becoming also a Fellow of St John's College in 1950. In 1958, he was elected to transfer to the Regius chair in the Faculty, which he held until his retirement in 1964.
He was a quiet and thoughtful man, but skilled and decisive as the chair of a meeting, without appearing to dominate. He preached well but seldom. He was careful with his delicate health but never allowed it to interfere with his work, except in some periods when he was immobilised. He never married. Instead he was devoted to his cats, something his Times obituarist called "his most uncommon characteristic". He died in Cambridge on 30 June 1967 aged 70.
Stanley Lawrence Greenslade (1905-1977)
In post 1958-1959
Stanley Greenslade was born on 14 May 1905 in Bristol, his father employed in the tailoring business, and he was educated at Christ's Hospital School and then Hertford College, Oxford. He went straight on to ordination and his short curacy was spent at Beeston, near Leeds. He was recalled to Oxford in 1930 to a Fellowship at St John's College, where he served as chaplain and tutor in theology. In 1943, he was elected to the Lightfoot professorship in divinity at the University of Durham, transferring to the Van Mildert chair in 1950. In 1958, he was persuaded to move to Cambridge and took up the Ely professorship along with a Fellowship at Selwyn College. However, after only six months he was offered the Regius chair in Ecclesiastical History in Oxford, which he accepted.
He was an expert in the history of the early church but also of the Protestant Reformers. His publications therefore spanned many centuries of history, including Schism in the early Church and a study of William Tyndale (his first book). He edited a volume of the Cambridge History of the Bible and the volume in early Latin theology in the Library of Christian Classics series. His wide expertise in Christian history made him an ideal participant in ecumenical conversations in the 1960s, when such endeavours were widely supported.
Professor Greenslade was a shy man, but admired by his colleagues for both his judgement and his integrity. It was a matter of regret therefore that his tenure of the Ely professorship was so short.
He retired from his Oxford professorship in 1972 and died on 8 December 1977.
Geoffrey William Hugo Lampe (1912-1980)
In post 1960-1971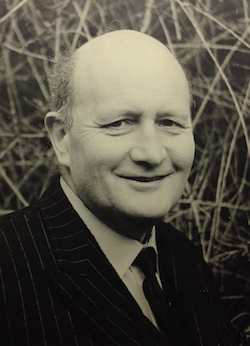 Geoffrey Lampe was born in Bournemouth on 13 August 1912. His father, born in Alsace, was of Dutch origin, and in 1912 he was a well-known and successful conductor of the Bournemouth Symphony Orchestra. Geoffrey won a scholarship to Exeter College, Oxford. Following a first in theology in 1936, he was ordained the next year and spent the next few years in a curacy and school teaching. In the Second World War, he was a chaplain to the Forces and won the MC for conspicuous bravery.
After the War, he served as a fellow and the chaplain of St John's College, Oxford, before a move to Birmingham to be Edward Cadbury Professor of Theology in 1953. He came to Cambridge in 1960 to be Ely professor and a fellow of Gonville & Caius College. In 1971, he transferred to the Regius chair.
His academic expertise ranged over the whole field of Christian doctrine. He was responsible for the massive Patristic Greek Lexicon and one of his best-known works of theology was God as Spirit, his 1975-76 Bampton lectures. He was also the editor of the second volume of the Cambridge History of the Bible.
Professor Lampe was known for his sociable and warm disposition, he and his wife being generous and affable hosts of many gatherings. He was noted as a raconteur. Outside academia he was active in church affairs, being a member for years of the Church of England General Synod, where he championed the ministry of women, liturgical reform and ecumenism. In the last-named, he developed strong relations with the Lutheran churches in Scandinavia.
In the mid-1970s, he had to face serious illness on several occasions but met it all with steadfast good humour and courage. He reached retirement in 1979 and died in Cambridge less than a year later on 5 August 1980.
George Christopher Stead (1913-2008)
In post 1971-1980
Christopher Stead was born in Surrey on 9 April 1913 into a teaching family. He achieved first-class marks in classics and moral sciences in his Tripos examinations as a student at King's College, Cambridge. G. E. Moore and Ludwig Wittgenstein were among those whose lectures he attended. He did some postgraduate study in philosophy and theology in Oxford, before returning to King's as a fellow in 1938. He was ordained to his Fellowship in 1938. With few undergraduates around during the Second World War, he gave service in a parish in Newcastle-upon-Tyne, and also taught at Eton College. In 1944, he returned to Cambridge and was officially appointed a lecturer in the Faculty of Divinity. After five years, he moved to Keble College, Oxford, as chaplain and a Fellow. In 1971, he was elected to the Ely professorship and came back to Cambridge once more.
He researched predominately in the area of Patristic history and doctrine. His particular expertise was in the relationship between philosophy and theology in this period. His major books were published after he reached the age of 65. The Divine Substance came out in 1977. After retirement he published Substance and Illusion in the Christian Fathers (1985), Philosophy in Ancient Antiquity (1994) and Doctrine and Philosophy in Ancient Christianity (2000). He was a dry lecturer but his students were impressed by his scholarly rigour.
Christopher Stead had a life-long interest in steam locomotives, maintaining an O-gauge model layout in his attic for many years. At the age of 89, he published a scholarly book entitled The Birth of the Steam Locomotive.
He died on 28 May 2008 at the age of 95.