Divinity Faculty Research Seminar Series in Inter-Religious Relations
Cambridge Inter-faith Programme
Cambridge Inter-faith Programme
UNIVERSITY OF CAMBRIDGE
FACULTY OF DIVINITY 

Cambridge Inter-faith Programme
   Michaelmas Term 2020
CIP Research Seminars go online with talks by Dr Safet HadžiMuhamedović, Dr Jörg Haustein and Dr Justin Merritt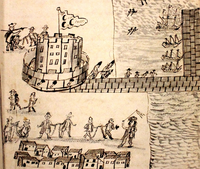 Detail from Edward Coxere, Narrative of Edward Coxere, 1647-1684, Copyright Library of Congress Manuscript Division Washington, D.C.
CIP Research Seminars normally take place in the Faculty of Divinity on Friday afternoons with tea and cake, but this term we will be going online (so remember to bring your own tea and cake!). 
Chaired by Dr Giles Waller, these 40 minute talks will explore a wide range of interfaith topics from an academic perspective. There will be an opportunity for attendees to ask questions after each talk.
Join us by registering your interest (see Eventbrite links after the descriptions of each talk) and we will send you a Zoom webinar link the day before the event.
Friday, 30 October at 1.30pm: 'Spatio-Temporal Proximities: Bosnian Dinaric Karst after Unhoming Ruptures' by Dr Safet HadziMuhamedovic
As a religiously plural space, Bosnia was particularly vulnerable to the strong thrusts of ethno-religious homogenisation in the twentieth century. In this seminar, Dr HadžiMuhamedović considers the karst Field of Gacko in the south-eastern Bosnian highlands – where he conducted long-term ethnographic research – to raise questions about the spatio-temporal qualities of communal (inter-faith) relations and syncretic rituals. Journeying through conversations with his interlocutors in one of the world's most politically polarised landscapes, he suggests that the echoes of the Christian-Muslim-Roma alliances in Gacko form a defiant grammar of home in the future tense. This seminar calls for an anthropology of proximity within and beyond the Bosnian Dinarides.
To attend this webinar, register here.
Friday, 13 November at 1.30pm: 'The Making of 'Islamic Danger': Missionaries, Sufis and Colonial Panics in German East Africa' by Dr Jörg Haustein
In 1908, a mysterious letter caused a revival in Muslim piety wherever it landed in German East Africa. While politically inconsequential and short-lived in its effects, it drastically altered the German perception of Muslims and prompted the formation of an Islam policy that fed directly into German and British propaganda in the First World War.
In this seminar, Dr Haustein will reconstruct the alignment of colonial discourses that led to such a reaction and produced the notion of 'political Islam' in German scholarship and public debate.
To attend this webinar, register here.
Friday, 27 November at 1.30pm: 'Starting from a different place: radical dissent and the reception of Islam among early Quakers & Unitarians' by Dr Justin Meggitt
Radical dissenters in seventeenth-century England produced some of the most striking and unexpected interpretations of Islam and Qur'an in the Anglophone world, from works of Qur'anic textual criticism to claims about the incompatibility of Islam with slavery. In this seminar, Dr Meggitt will scrutinise the contextual and theological foundations of these unusual understandings of Islam.
To attend this webinar, register here.