Lady Margaret's Professors
William Selwyn (1806-1875)
In post 1855-1875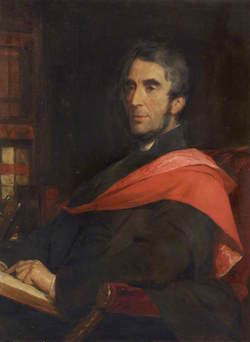 The son of a lawyer, William Selwyn was born on 19 February 1806. After being at Eton School, he went up to St John's College in Cambridge and took his BA in 1828. The following year he became a Fellow, the same year he was made deacon. Priested in 1831, he married the following year, which meant surrendering his fellowship, and he became a parish priest in Leicestershire and then of Melbourn in Cambridgeshire. He was also a canon of Ely Cathedral from 1833. His theological writings and preaching brought him notice and in 1855 he was elected Lady Margaret professor by the casting vote of the chair of the electors. His main area of expertise was in the Hebrew scriptures. He was also a voice in Church matters, opposing the disestablishment of the Irish bishoprics and he was the main author of the Cathedral Commission's report of 1854.
As well as being a theologian, he was a keen amateur astronomer and established an observatory at Ely. He had photographs taken of the sun for over a decade to record a complete sunspot cycle. He was elected a Fellow of the Royal Society in 1866 for his scientific contribution.
Once in post as Lady Margaret professor, he gave back to the Divinity Faculty a considerable part of his salary, which in time was used to fund the Divinity School building in St John's Street, designed by Basil Champneys. This remained the Faculty's home until 2000. The old building was known consequently as the 'Selwyn School of Divinity' and a marble bust of him was commissioned from A. B. Joy. The bust currently stands in the entrance hall of the new Faculty building. It should be noted that Selwyn College, Cambridge, was named after one of William's brothers, George Augustus (1809-78), who was the first Anglican Bishop of New Zealand.
William Selwyn suffered ill-health in his last years, the consequence of being thrown from his horse in 1866, caused it was reported by the carelessness of an undergraduate riding on the wrong side of the road. He died on 24 April 1875.
Joseph Barber Lightfoot (1828-1889)
In post 1875-1879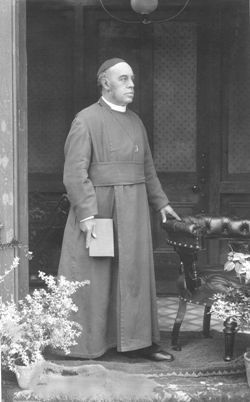 Joseph Barber Lightfoot was born on 13 April 1828 in Liverpool, the son of an accountant. He was lastly educated at King's School, Birmingham, a city where the family moved after his father's death in 1843. He went up to Trinity College, Cambridge, in 1847 and was elected a Fellow there in 1852. He was made deacon in 1854 but not ordained a priest until 1858. His first major appointment in the Church was as a Canon of St Paul's Cathedral in 1861 and he also served as a Chaplain to Queen Victoria. The same year he was appointed Hulsean Professor at the (newly-founded) Divinity Faculty in Cambridge. He was elected Lady Margaret professor in 1875 but his tenure was cut short by the Church calling him to be Bishop of Durham in March 1879. Despite his shy and aloof personality, he proved to be a conscientious and effective bishop.
He was primarily a Biblical scholar, his expertise resting on a formidable ability in Greek, Latin and other languages, both ancient and modern. He wrote a series of Biblical commentaries using his facility in linguistic criticism to illuminate the meaning of passages in sacred text. He did this supported by patristic scholarship which facilitated his setting of text within an historical framework. His work is therefore still of relevance to Biblical scholars in the 21st century. His writings on Ignatius and Clement of Rome were as foundational for his legacy as were the numerous biblical commentaries he published. Along with Westcott and Hort, he created the nineteenth-century reputation of Cambridge for Biblical studies.
As Bishop of Durham, Lightfoot had continued his academic work but also threw himself into his diocesan responsibilities. The strain undermined his health. He died on 21 December 1889 whilst staying at a hotel in Bournemouth, where he had gone for a rest. He left much of his library to the Divinity Faculty in Cambridge and the room designated to hold it in the Victorian Divinity School in St John's Street became known as the Lightfoot Room. When the Faculty left for its present home in 2000, the main seminar and meeting room of the new building was named The Lightfoot Room and his portrait hangs on its wall.
Charles Anthony Swainson (1820-1887)
In post 1879-1887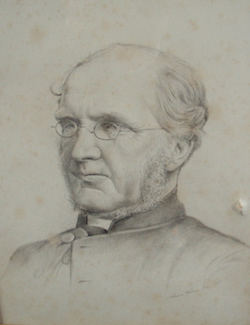 Charles Swainson was born in Liverpool on 29 May 1820, son of a merchant in the city, and proved an exceptional schoolboy. He matriculated at Trinity College Cambridge in February 1837 when only 16. Gaining his BA degree in 1841, he was immediately offered a fellowship at Christ's College and then pursued ordination as well as academic work. On his marriage in 1852, he had to resign his Fellowship and became a curate in London, before his appointment as Principal of Chichester Theological College in 1854. Ten years later he returned to Cambridge as Norrisian Professor in the Divinity Faculty, fifteen years later being elected to the Lady Margaret chair. He also served as Master of Christ's College 1881-87 and Vice-Chancellor of the University 1885-86.
He researched for many years in the history of the creeds. This led him to an expertise in particular in the liturgies of the Eastern and Orthodox churches. His main published work was The Greek liturgies chiefly from the original sources, published in 1884. His opposition to the use of the Athanasian Creed in Anglican worship involved him in ecclesiastical controversy.
He was known as a man of great tact and courtesy; he was also conscientious and hard-working. It said that his skilful but time-consuming attention to the finances of his College as well as serving as Vice-Chancellor overburdened him and his health failed as a result. He died in office on 15 September 1887 and was buried in Granchester.
Fenton John Anthony Hort (1828-1892)
In post 1887-1892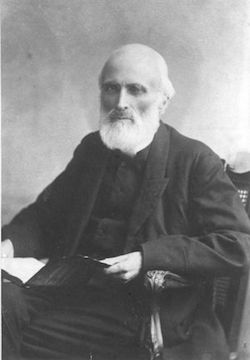 Fenton Hort was born in Dublin on 23 April 1828. He studied for the Classics Tripos at Trinity College, Cambridge, taking his degree in 1850. He was made a Fellow of his College two years later, although he had to resign this in 1857 when he married, as until 1870 dons had to remain bachelors. Having been priested in 1856, he became Vicar of St Ippolyts with Great Wymondley, near Hitchin, where he combined academic study in theology and patristics with being a parish priest. When regulations changed, Hort was able to return to the University and in 1872 he became a Fellow at Emmanuel College, being appointed Hulsean Professor in the Faculty of Divinity the following year, before election to the Lady Margaret chair in 1887.
He was a prodigious linguistic talent and as early as 1854 was a co-founder of the Journal of Classical and Sacred Philology. Although he had a strong Evangelical background, his studies opened him to a more liberal outlook with respect to scriptural text and his meticulous scholarship in this field of New Testament textual criticism became his best-known academic contribution. In 1870, he joined the committee working towards a revised translation of the New Testament. His and Brooke Foss Westcott's edition of the Greek New Testament first appeared in 1881 and, despite much controversy at the time, was accepted as the most accurate version. He also wrote scriptural commentary and on early Christianity, as well as producing several volumes of sermons. He remained resolutely detached from all ecclesiastical parties and controversies. Along with B. F. Westcott and J. B. Lightfoot, Hort was responsible for establishing the nineteenth-century reputation of the Cambridge Faculty of Divinity for scholarship in Biblical studies.
Away from the Faculty, Hort was also an enthusiastic mountaineer and a first-rate practical botanist. He died on 30 November 1892 in Cambridge.
Joseph Rawson Lumby (1831-1895)
In post 1893-1895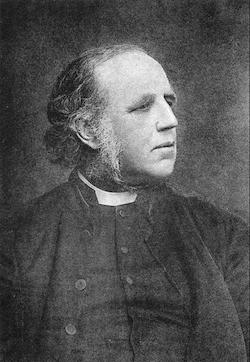 Joseph Lawson Rumby was born near Leeds on 18 July 1831, the son of a joiner. After attending Leeds Grammar School, he read Classics at Magdalene College, Cambridge, and graduated in 1858 with a first-class degree. He became a Fellow of the College (until his first marriage), becoming the chaplain after his priesting in 1860. In later years he became a Fellow of St Catharine's and, for a time, Vicar of St Edward's Church in the centre of Cambridge. In 1879, he became Norrisian Professor in the Faculty of Divinity and was then elected in 1893 to succeed Hort in the Lady Margaret Chair.
A notable scholar in Hebrew, in 1873 he joined the Revision Committee for the Old Testament and was primarily responsible for the revised version of the Apocrypha. His biblical scholarship in both Old and New Testaments led to his editorship of the Cambridge Bible for Schools, being responsible for writing some of the volumes himself. But his interests were even wider. He produced editions of medieval and renaissance texts for the Rolls Series and the Early English Text Society, of which of the latter he was a founder. He also produced a History of the Creeds.
Lumby died at Granchester, near Cambridge, on 21 November 1895, less than three years after his appointment to the Lady Margaret chair.
Arthur James Mason (1851-1928)
In post 1896-1903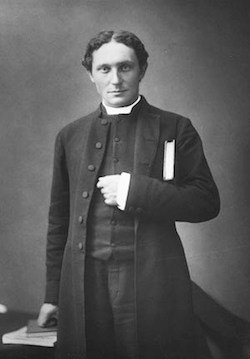 Arthur James Mason was born on 4 May 1851 in Carmarthenshire at his maternal grandparents' home. The Masons were a landed family from Nottinghamshire and they lived during some of his upbringing at Eaton Hall, near Retford, later Morton Hall. After attending Repton School, he won a scholarship to Trinity College, Cambridge. After graduating in Classics in 1872, he became a Fellow of his College and his first work, The Persecution of Diocletian, was published to some acclaim in 1875. He was ordained a priest the same year. He was soon known for what his Times obituarist called, 'powers of singular persuasiveness as a preacher'. When his friend, Edward Benson was consecrated Bishop of Truro, Mason was persuaded by him to give up his academic career in 1878 and become a Canon of Truro Cathedral and Diocesan Missioner there. It was said his mission work was more fruitful with women than with men.
In 1884, Mason moved to London to be Vicar of All Hallows, Barking, to establish at the same time a college for preachers, to reach out to the educated and upper classes. He still maintained his scholarly interests but had little time to publish. It was therefore a surprise to some when he was elected to the Lady Margaret chair. As his obituarist noted, Mason's 'productiveness in theological scholarship' was hardly equal to the traditions of the chair, 'but the electors no doubt relied on his attractiveness as a teacher, and their choice was justified'. He became a Fellow of Jesus College. However, he resigned both positions in 1903 when elected Master of Pembroke College.
He published a selection of books during his seven years as a professor, ranging from a biography of Thomas Cranmer to books on purgatory and the principles of Christian unity. He also was the editor of the Cambridge Patristic Texts series.
After a disagreement with the Fellows, he resigned his Mastership and he and his wife left Cambridge to live in Canterbury, where he had been a Canon since 1896. He died there on 24 April 1928.
Alexander Francis Kirkpatrick (1849-1940)
In post 1903-1906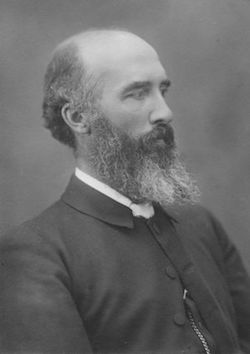 Alexander Francis Kirkpatrick was born in Lewes on 25 June 1849, son of a Dublin-born clergyman. He graduated from Trinity College, Cambridge in 1871 and was immediately elected to a Fellowship there. He then read for the Theology Tripos and achieved a first and took the prizes awarded for Hebrew, Church History and New Testament, following which he was ordained. He was considered a brilliant scholar and teacher and at just 33 was made Regius Professor of Hebrew and a Canon of Ely Cathedral. His writings were mainly in the field of Old Testament and he pioneered new ideas in the subject. His commentary on the Psalms was particularly admired.
In 1898, he was elected to the Mastership of Selwyn College and in 1903 succeeded Mason as the Lady Margaret Professor. He resigned both posts in 1906 to take up the Deanship of Ely Cathedral, a position he held for nearly thirty years. He was an advocate of Prayer-Book revision and updating the lectionary.
Although his tenure of the Lady Margaret chair itself was short, his total time teaching in Cambridge amounted to several decades and he was remembered by colleagues and former students with much affection and respect. Early in 1936, he retired from Ely Cathedral at the age of 86 but remained active until his death aged 90 in Bournemouth on 22 January 1940.
William Ralph Inge (1860-1954)
In post 1907-1911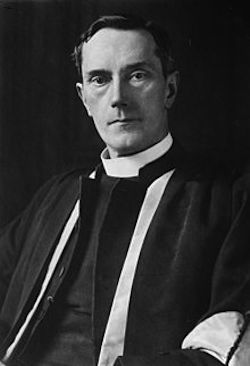 W. R. Inge was born in Yorkshire on 6 June 1860. After being educated at Eton, he went to King's College, Cambridge, where he excelled with firsts in both parts of the Classical Tripos, before returning to Eton to teach. After ordination in 1888, Inge moved to Oxford, where his father had become Provost of Worcester College in 1881 and there the young scholar became a Fellow and Tutor at Hertford College. He stayed there for fifteen years.
In 1905, he moved to London to become Vicar of All Saints, Ennismore Gardens, at the same time as he married, but two years later he was elected to the Lady Margaret chair in Cambridge, and accepted a Fellowship at Jesus College. His tenure, like his immediate predecessors, proved short. In 1911, he accepted the Deanship of St Paul's Cathedral in London despite the fact that he claimed 'long musical services' always 'bored' him.
He wrote on a wide range of subjects in philosophy and theology. Platonic philosophy was a significant interest. Some judge his greatest work to have been his Gifford lectures of 1917-18 on the Philosophy of Plotinus. He was particularly interested too in Christian mysticism, believing that faith sprang from experience not from institutional authorities. His Bampton lectures on the subject published in 1899, preceded the more familiar works by von Hugel and Underhill and pioneered the systematic and scholarly study of the subject. He published many volumes of sermons and essays.
Inge was a well-known public personality, with a weekly column in a newspaper for 25 years. He was known as the 'gloomy dean' because of his pessimistic views on human nature and his rejection of the then fashionable notion of 'progress'. Some of his witticisms and pithy epigrams are still quoted today. He retired from St Paul's in 1934 and lived for another twenty years, dying on 26 February 1954 aged 93.
James Franklin Bethune-Baker (1861-1951)
In post 1911-1935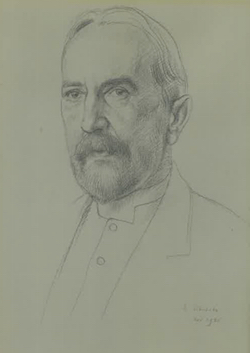 Born on 23 August 1861 in Edgbaston, Birmingham, James Baker was the son of a surgeon. In 1884, he added his mother's middle name to his surname – and became Bethune Baker. That same year he took a first-class degree at Pembroke College, Cambridge, in theology. He was ordained in 1888 and three years later, after completing a curacy in Birmingham, was elected into a Fellowship at his College and appointed Dean.
Even as a student, there were hints in his work that he did not take a completely orthodox view of Christian doctrine and his espousal of biblical criticism caused him to take a liberal position or, in the terms popular early in the 20th century, he became a 'modernist'. The alarm this caused amongst colleagues resulted in him being removed from his College Deanship in 1905 and he rarely preached after that. However, he was a stimulating teacher and his books on early Christian doctrine (particularly his study of Nestorius published in 1908) gave him a scholarly reputation, even if he was doctrinally 'suspect' to his fellow clergy. His scholarship however won him election to the Lady Margaret chair in 1911.
Bethune-Baker's primary concern was that there should be free enquiry with regard to theology and that Anglicans should be as free to adopt liberal views as they were to have conservative ones with respect to Christian doctrines such as the Virgin Birth and the Resurrection. His later books illustrated this concern. He encouraged independence of thought in those he taught. Henry Chadwick, in his DNB entry for Bethune Baker, noted of him that he had a "keenly critical mind, a strong, sometimes obstinate personality, and a satirical tongue which enjoyed opposition and in some induced alarm." Nevertheless, he was a popular teacher and a respected colleague. He founded the Cambridge 'D' Society in the Faculty in 1922, a seminar concerned with philosophical and systematic theology that still continues to the present day.
In 1935, aged 74, he resigned his professorship and he and his wife retired to Wales. But he missed the involvement with academia and in the late 1930s they returned to live in Cambridge. He remained active almost to the end of his long life and died on 13 January 1951 aged 89.
Fred Shipley Marsh (1886-1953)
In post 1935-51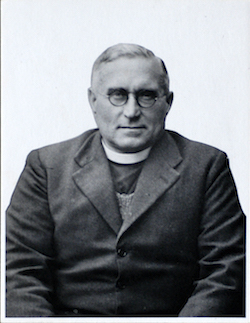 Fred Marsh was born in Gainsborough, Lincolnshire, son of a cabinet maker, on 4 June 1886. After attending the local grammar school, he won a scholarship to study at Selwyn College, Cambridge in 1905. He took a first-class degree in theology in 1908, distinguishing himself particularly in Hebrew. He studied for ordination at Kelham Theological College and became a deacon in 1911, a priest in 1912. After serving a curacy in Chiswick, he resumed an academic career, his first major post being as a lecturer at King's, London, 1914-20, with some years away as a chaplain to the forces in the First World War.
In 1920, his old college in Cambridge welcomed him back as a Fellow and as Dean. He was appointed a lecturer in the Faculty of Divinity in 1926 and in 1935 was elevated to the Lady Margaret chair.
His main work had been the Book of the Holy Hierotheos, published in 1927, an edition and translation of an early sixth-century theological work in Syriac, for which Marsh worked from early medieval manuscript copies in the British Museum and Harvard University. He published very little after the mid-1930s, except reviews and encyclopaedia articles. His obituary in The Times noted that this was because he was modest and had 'a certain strain of extreme caution in his disposition'. His colleagues, however, valued greatly his comments on their own work because of his keen critical eye. As a teacher and lecturer, he was popular and much loved by his students both in the Faculty and his College.
He retired from his professorship in 1951 and died in Cambridge on 26 October 1953.
Charles Francis Digby Moule (1908-2007)
In post 1951-1976
Charles Moule was born on 3 December 1908 near Shanghai in China, where his parents were missionaries, belonging to a strong Anglican clerical family. Charlie (as he was known) first came to Britain in 1919 aged ten. He read classics at Emmanuel College, Cambridge, in the late 1920s and then studied for ordination in the early 1930s. He combined his curacies with his academic work for several years, before becoming Vice-Principal of Ridley Hall Theological College (1936-44) and then Dean of Clare College (1944-51). His first appointment in the Faculty of Divinity was as a lecturer in 1944 and seven years later he was chosen as the new Lady Margaret Professor.
He wrote widely in the area of New Testament studies, his two best-known works being The Birth of the New Testament (1962), which ran to four editions over the next decades, and The Origin of Christology (1977). He was prodigious in his knowledge, even knowing the Greek New Testament off by heart. He was part of the team that was responsible for the New English Bible, though it is said he still preferred for himself the Revised Version. He became an admired teacher and through this, as well as through his writings, he became one of the most influential New Testament scholars of his generation.
He retired from the Lady Margaret chair in 1976 but remained in Cambridge for some years as a tutor at Ridley Hall, before moving to Sussex and finally to Dorset, where he died. A humble and generous man, he was not only admired but much loved by his students and colleagues. His mother lived to be well over 100 and he nearly matched her longevity. He died on 30 September 2008 in his 99th year.
Morna Dorothy Hooker (b. 1931)
In post 1976-1998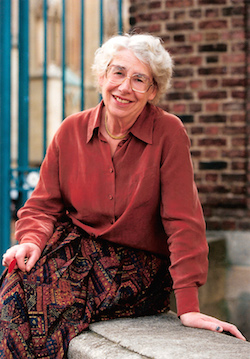 Morna Hooker was the first woman to hold a professorship in the Divinity Faculty at Cambridge. She attained a first-class degree in theology at Bristol University and her subsequent MA dissertation was published in 1959 as her first book Jesus and the Servant. After her PhD, she held lectureships at Kings College London and then Oxford before being elected Lady Margaret professor in 1976. She became a founding member of the fellowship at Robinson College in Cambridge.
One prominent area of her research concentrated on the Gospel of St Mark. She followed The Son of Man in Mark (1967) and The Message of Mark (1983) with what some think of as her finest contribution: the 1991 commentary on Mark in the A & C Black commentary series. She also wrote in the area of Pauline studies and many of her numerous journal articles tackled questions in this area.
She was the first woman to become president of the international Studiorium Novi Testamenti Societas and the first to become a joint editor of The Journal of Theological Studies.
After her retirement in 1997, she has continued to be based in Cambridge.

Graham Norman Stanton (1940-2009)
In post 1998-2007
Graham Stanton was born in Christchurch, New Zealand, on 9 July 1940 and studied for his first degree at Otago University. He came to Cambridge in 1966 to study for a PhD under the supervision of Charlie Moule. His first subsequent appointment was to a lecturership at Kings College London in 1970, where in 1977 he became a professor, before his move to the Lady Margaret chair in Cambridge in 1998. He was elected to a fellowship at Fitzwilliam College.
His PhD thesis was published in 1974 as Jesus of Nazareth in New Testament Preaching. His later monographs dealt mainly with the Gospels: A Gospel for New People (1993), Gospel Truth (1995), The Gospels and Jesus (1989, 2nd edition 2002), Jesus and Gospel (2004). He edited New Testament Studies from 1982 to 1990, its associated monograph series and was a general editor of the series 'International Critical Commentaries' for 25 years until his retirement. He was valued as a supervisor and mentor.
His last years as Lady Margaret professor were overshadowed by ill-health. Yet he remained cheerful, active and productive against the medical expectations well beyond his retirement in 2007. Sadly, however, that retirement period proved relatively brief. He died on 18 July 2009, much mourned by former students and colleagues.