Cambridge Teachers of Rabbinics
(Information taken from: Nicholas de Lange, 'Books and Bookmen: the Cambridge teachers of Rabbinics 1866-1971', Jewish Historical Studies, Volume 44 (2012), pp. 139-163)
The University of Cambridge played a pioneering role in the nineteenth-century growth in rabbinic and medieval Hebrew scholarship. Christian scholars were aware of the significance of rabbinic studies for the early history of Christianity and this led in turn to the appointment of the first 'Teacher of Talmudic and Rabbinic Literature' in the University in 1866. The holders of the position in the decades since are shown below.
Solomon Marcus Schiller-Szinessy (1820-1890)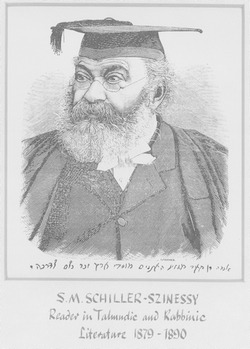 In post 1866-1890
Schiller-Szinessy was born in Budapest, the son of a rabbi and merchant. He gained a PhD from the University of Jena in mathematics and philosophy in 1845, two years after rabbinic ordination. Politically he supported Hungarian independence from Austria and was imprisoned for his 'revolutionary' views. Escaping, he made his way to Manchester, and after some years as a local rabbi there, he settled in Cambridge.
In 1865, the keeper of the University's manuscripts, Henry Bradshaw, employed him to work on the University Library's Hebrew manuscripts, and a year later he became Teacher of Talmudic and rabbinic Literature. Although the University of Cambridge had employed Hebrew teachers before, this was the first time the subject was officially recognised. He was remembered after his death as a gifted and devoted teacher.
Schiller's lasting legacy was his work on the Hebrew manuscripts, writing detailed descriptions of two-thirds of those in the University Library, facilitated by his vast encyclopaedic knowledge. During his tenure, more Hebrew manuscripts were acquired too and in large numbers. He also catalogued the Hebrew collection in Trinity College Library.
He died in 1890.
Solomon Schechter (1847-1915)
In post 1890-1902
Schechter was born in the Romanian town of Foҫsani. He studied in Vienna (1875-79) and Berlin (1879-82). A chance meeting with Claude Montefiore, then only in his twenties, brought him to London as Montefiore wanted a private tutor in rabbinics. With Montefiore's financial support, Schechter was able to study the rich collections of Hebrew manuscripts in the British Museum and also in the Bodleian Library in Oxford.
He was appointed to his position in Cambridge in 1890. With Charles Taylor, Schechter became one of those most responsible for bringing the Cairo Genizah manuscripts to Cambridge in 1896-97, a legacy with which his name will always be associated.
Schechter published and made the most of his opportunities for research and teaching; but he was not happy in England, feeling that his subject was not sufficiently recognised and meaning he was financially dependent on Montefiore who funded the Readership. In 1902, he accepted appointment as Principal of the Jewish Theological Seminary in New York and left Cambridge.
Israel Abrahams (1858-1925)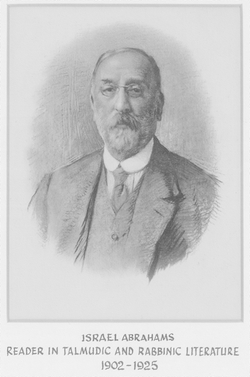 In post 1902-25
Abrahams was born in London, his father being the principal of Jews' College in Finsbury Square, which trained ministers and teachers. He graduated with an MA from University College, London, in 1881, when he became a lecturer at the Jews' College. He stayed there until his appointment to Cambridge in 1902.
He was an active member of the intellectual and artistic Jewish discussion group 'The Wanderers', and in 1891 a founder of the Society of Maccabbeans, a society for Jews in the professions. He also helped found the Jewish Historical Society in 1893. From 1889 he was an editor of, and a writer for, the Jewish Quarterly Review, as well as writing books and articles.
In his new Cambridge role, which he held for over twenty years until his death, he was less a collector of manuscripts than his predecessors. However, he did study and publish on those already in the collection and in 1906 he was appointed Curator of Oriental Literature in the University Library. He was a fine teacher and respected and loved by those he taught. He was also a prolific writer publishing some thirty books. He helped draft the Jewish Religious Union's first prayer book; yet whilst sympathetic to Liberal Judaism he was at the same time loyal to his Orthodox roots. He was also deeply interested in Christianity and understood the aims of serious Christian scholarship, making him a much respected colleague.
Herbert Martin James Loewe (1882-1940)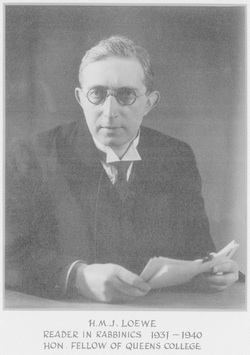 In post 1931-40
After Abrahams's death, the funding for the position ceased. Abrahams's pupil, Herbert Loewe, who held an academic position in Oxford, travelled regularly to Cambridge to maintain some teaching of the subject. Eventually, money was raised to fund an endowment, mainly through the efforts of Redcliffe Salaman (1875-1955), a geneticist whose expertise was on the potato, but whose late wife had been a translator of medieval Hebrew poetry. Herbert Loewe was the obvious person to appoint and he took up the position in Michaelmas Term 1931.
Loewe was born in London, a banker's son, and had achieved a first in the Oriental Studies Tripos as an undergraduate at Queens' College in Cambridge. He followed this by achieving another first in the Theology Tripos, probably the only Jew to read for the theology degree in Cambridge until much later in the twentieth century. After some further years in Cambridge, which included being Curator of Oriental Literature at the University Library, he became a lecturer in Oxford in 1913.
Back in Cambridge full-time from 1931, he was widely admired in the university. He initiated the project of cataloguing all Hebrew manuscripts in College libraries, publishing himself volumes on Trinity and Girton Colleges. He was also involved in publications on Judaism and Christianity, but is best known for his A Rabbinic Anthology, a selection of extracts from rabbinic literature compiled with Claude Montefiore.
His tenure coincided with the terrible period of Nazi persecution of Jewish people and Loewe was very active in trying to rescue European Jewish scholars from this menace. He was known as a tolerant and open-minded man, a staunch Orthodox Jew in his own beliefs, and a 'builder of bridges of understanding'. He was much mourned at his premature death from Hodgkin's disease in October 1940.
Jacob Leib Teicher (1904-1981)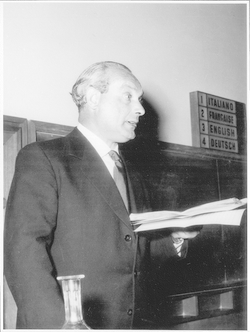 In post 1946-71
Teicher was born in Rudki in Eastern Galicia, then part of Austria, now in Ukraine. In 1923 he went to Florence, in Italy, studying philosophy, Arabic and Hebrew at the University there, whilst at the same time pursuing courses at the Collegio Rabbinico Italiano. In the end, he decided not to be ordained as a rabbi but he continued to pursue an academic career. In 1938, he was on a study trip to England when the Italian government headed by Mussolini expelled all foreign Jews, which meant that he could not return to Florence. He made a living in Oxford and London from 1939 through the war years in short-term appointments, before in 1946 being appointed Rabbinics Lecturer at Cambridge. The post had been vacant for six years.
He was lively and controversial in discussion, loving a good argument and challenging accepted ideas. He made an impact on those he taught. From the start of his tenure, he had tried to encourage an expansion in the teaching of Jewish Studies but in this he was deeply disappointed as his colleagues failed to support the move. If his teaching remained limited to a smaller field than he had hoped, his writings proved the opposite as he had wide-ranging interests. He wrote especially on Maimonides and medieval Jewish philosophy, as well as Genizah manuscripts and early printed fragments. He became the first editor of the Journal of Jewish Studies (1948-55) contributing articles to every issue, particularly on the newly-discovered Dead Sea Scrolls.
Teicher retired in 1971 and died in Cambridge a decade later.
Nicholas de Lange (b. 1944)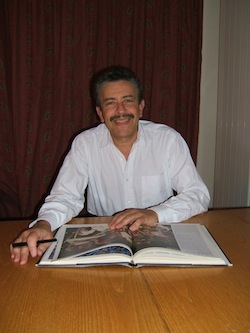 In post 1971-2011
Born in Nottingham, de Lange studied at Oxford, where he wrote a DPhil dissertation on 'Origen and the Jews' under the supervision of Henry Chadwick (later Regius Professor of Divinity in Cambridge). He studied concurrently at Leo Baeck College, a rabbinic seminary in London, graduating with rabbinic ordination in 1973.
He succeeded Teicher in 1971. In addition to teaching Rabbinics, he oversaw the introduction of Modern Hebrew in the Oriental Studies Tripos, dispensing much of the teaching himself in the early years. His interests were very wide, but gradually came to focus in his research and writing on Greek-speaking Judaism, particularly in the Byzantine Empire. He published Genizah fragments written in a mixture of Greek and Hebrew, founded (in 1987) and edited the Bulletin of Judaeo-Greek Studies, and directed two research projects, on the Greek Bible in Byzantine Judaism and the mapping of the Jewish communities of the Byzantine Empire. He also took a strong interest in encounter and dialogue between Jews and Christians, particularly Eastern Orthodox Christians.