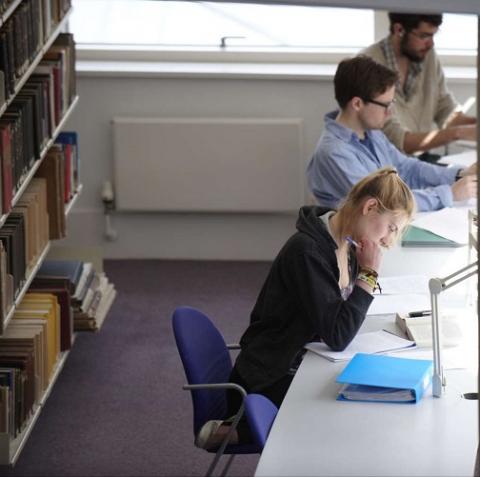 The Divinity Library will aim to assist those users who might benefit from extra support, which might include, but is not limited to the following:
a borrower has children with him/her
a reader with restricted mobility (e.g. heavily pregnant women, the elderly/frail or persons on crutches, or wheelchair users)
a library user with 'other impairments' (such as visual or any other conditions which may affect entering the library, or using our services).
1. In consultation with the Divinity Library, staff can offer the following support for those who require particular assistance:
Library books may be returned via the Divinity Faculty reception, in order to ease the return of books.
Books could be fetched in advance of a visit, so that they are ready to be borrowed from the Issue Desk (the maximum of 8 books applies, please contact us at least 4 hours - during library opening hours- prior to wanting to consult/borrow a book).
Divinity Library staff are happy to check books in the Library for basic research support purposes (i.e. checking a page number, a reference, bibliographic details). Such a request for reference support can be made via email.
2. Current members of the University accompanied by children (whether academic staff or students on any level) are welcome to return items to, or borrow items from the Divinity Library.
Users of the library are expected to maintain silence as far as possible. Parents bringing children into the library will be mindful of the primary library rule and of the needs of other library users.
The responsibility for the care and supervision of the child/children remains with the parent coming to the Library.
3. The Divinity Library welcomes requests for support which go beyond the above, but the Library may not be able to help in the requested way. Library staff will endeavour to come to a workable solution – our options may be limited by available staff time, the layout of our library and other factors which would apply also to any other reader with specific, additional needs.
---
You might also be interested to read the Building Access Guide for the Faculty of Divinity, as well as the pages of the University's Disability Resource Centre.