Information about available library services and Coronavirus (COVID-19, updated 20/4/2020, 16:10)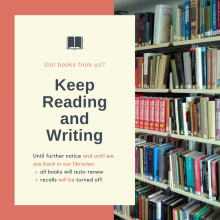 The Divinity Faculty Library is closed until further notice (due to COVID-19). If you have books borrowed from us or any other University of Cambridge library(*1), please do not worry: auto-renewals of books will continue, and requests will remain disabled.

Please refer to the information on the University Library website, which includes information on faculty and departmental libraries: https://www.lib.cam.ac.uk/reader-notices/cambridge-university-libraries-and-coronavirus-covid-19.
Please refer to the central University website which contains advice and guidance for staff and students: https://www.cam.ac.uk/notices/news/coronavirus-latest-guidance.
Please email us with any library, study or research-related queries. We will continue to work for you!
[*1 College libraries may have other policies, please ask check your College's library web page, or ask them]
[20 APR 2020 16:15]