Submitted by D.J. Goode on Fri, 22/02/2019 - 09:40
---
The video, and transcript, of Professor George van Kooten's inaugural lecture, 'Three Symposia: Plato, Philo and John – An Exercise in Triangulation', delivered in the Faculty of Divinity on 19 February 2019 are now available from Professor van Kooten's web page.
Abstract: This inaugural lecture proposes a sustained triangulation of New Testament writings between Hellenistic-Jewish and "pagan" Greek literature to detect their common discourse, both in their agreements and disagreements. It is argued that John's Gospel reflects a discourse with Plato's Symposium and its theme of love. It is also shown how such a reading, proposed by Erasmus at the beginning of the Renaissance, was prevented from flourishing by time-specific circumstances surrounding the interpretation of John's Gospel, only to be revived now in the renewed Graeco-Roman approach to John's Gospel.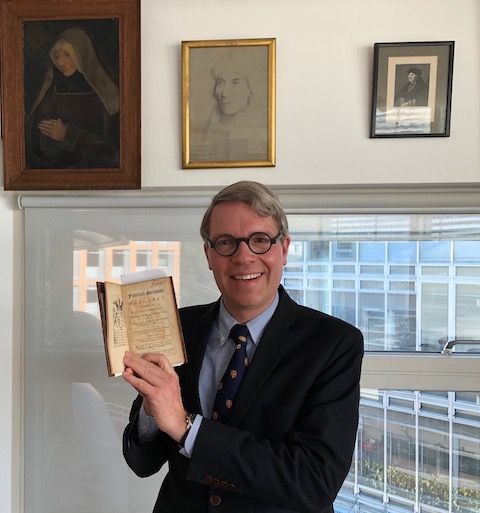 In compliance with tradition, a copy of "The Funeral Sermon of Margaret" is present on the lectern for the duration of the lecture, and is signed afterwards (see picture, under the portraits of Lady Margaret, John Fisher, and Erasmus in the room of the Lady Margaret's Professor). This is a tradition that started with the inauguration of Professor C.F.D. Moule in 1957, when he received a copy of Lady Margaret's funeral oration from the Very Reverend Irven D. Edwards, then Archdeacon of Leicester.