Theology and Tragedy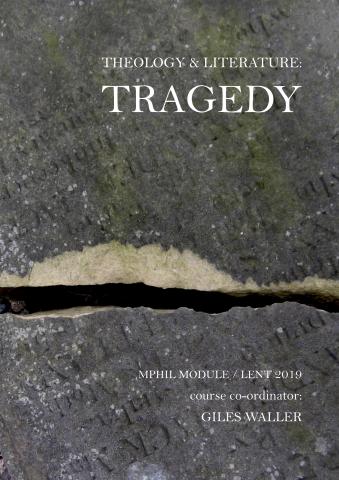 Among all art forms, tragedy is one that raises, and processes, some of the most painful and perplexing questions of human life. Over the last two centuries it has become a focal point for philosophical, ethical, theoretical, and theological discussions.
As Rowan Williams' recent book The Tragic Imagination (2016) has shown, the roots of tragedy and of religious thought are deeply intertwined, whether in the ritual civic dramas of ancient Greece, the ambiguously sacramental theatre of the Renaissance, or the tragic ironies of Job and the Gospel of John. 
This module explores the relationship between tragedy and Christian theology through five seminars. The first two seminars focus on philosophical and doctrinal questions in the work of major 20th century theologians for whom tragedy determinatively shaped their understanding of Christian doctrine: Donald MacKinnon (on ethics and Christology) and Hans Urs von Balthasar (on the Crucifixion and the doctrine of the Trinity).  The third seminar explores theological questions through the close reading of a literary text, examining the theme of tragedy and the theology of sacrifice through T. S. Eliot's Murder in the Cathedral.  The final two seminars explore Shakespearean drama, focusing on the 'absolute tragedy' of King Lear, and the theological move 'beyond tragedy' in the late Romances, focusing on The Winter's Tale. 
Since modules can occasionally change from year to year, you may wish to speak to the coordinator of this module, Dr Giles Waller, for details of provision in the future.