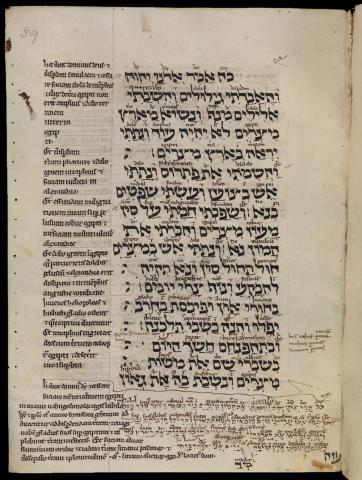 The Old Testament MPhil Pathway and Modules
In core module in this stream, studied in the first term, seeks to equip students with advanced tools for the study of the Hebrew Bible and to acquaint them with textual resources that they may not have encountered during their undergraduate education.
In the second term, students take a more specific module. In the present academic year, two are on offer. One looks at what has been called the 'wisdom tradition' in the Old Testament canon. This includes an examination of each of the main wisdom books, not least in terms of their social and theological context. Familiarity with the text and themes of Proverbs, Job and Ecclesiastes will be expected.
The other Lent term module looks at the study of the Septuagint, which is an important witness to the text and interpretation of the Hebrew Bible in antiquity. The course will introduce students to the issues and methods in Septuagint study, including the diverse textual history as well as the analysis of the language and vocabulary as a means for evaluating the Septuagint text and context.
Since modules can occasionally change from year to year, you may wish to speak to the coordinator of the Old Testament MPhil Pathway, Professor Nathan MacDonald, for details of provision in the future.  The modules being offered this year are listed on Old Testament MPhil.
Modules
Images used on this page:
Top: Title: The Book of Ezekiel (30:13–18). MS. Bodl. Or. 62, fol. 59a. English manuscript from early 13th century. Creator: Bodleian Library. Source: https://commons.wikimedia.org/wiki/File:Book_of_Ezekiel.jpg Licence: Public domain. Bottom: Left: Title: Cardinal Cisneros' Complutensian Polyglot Bible, 16th century. Creator:  MaiDireLollo. Source: https://tinyurl.com/5bbzr4d4 Licence: Public domain. Centre: Title: Job rebuked by his friends (William Blake). Creator: Morgan Library and Museum. Source: https://tinyurl.com/4ekbnbxc. Licence: Public domain. Right: Title: Papyrus Oxyrhynchus 3522. Creator: Sackler Library, Oxford. Source: https://tinyurl.com/y2wawz5v. Licence: CC BY-SA 4.0.